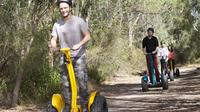 48 €
Coffs Harbour All-Terrain Segway Tour
Experience off-roading on an all-terrain Segway as you glide up to a lookout point for a view of the Pacific Ocean on this 1-hour tour in Coffs Harbour. You'll receive training on the Segway from a guide, who makes sure you feel comfortable on your personal transportation device. Select a morning or afternoon departure time when booking.
Your all-terrain Segway adventure starts at the Novotel Pacific Bay Resort in Coffs Harbour, where you'll master how to operate your Segway before setting off with your guide. Hands-on training lasts about 10 minutes.

When everyone is 'rider ready,' travel around the resort, through the bush, and up to the top of 'Segway Summit' for a view of the Pacific Ocean. As you cruise along with your guide, savor the unique feeling a Segway provides—to enjoy the same views and sights you would if walking but able to cover more ground and soak up the breeze as you go.