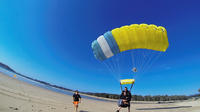 181 €
Coffs Harbour 6,000-, 12,000-, or 15,000-foot Tandem Skydive on the Beach
Jump out of a plane from 6,000, 12,000, or 15,000 feet in the air (1,829, 3,658, or 4,572 meters) on this 90-minute tandem skydiving adventure in Coffs Harbour. Enjoy thrill of freefalling with an instructor before your parachute opens and you both float above the coast and Solitary Islands Marine Reserve, landing on the beach. When booking, select your skydiving height and preferred time.
When you arrive at Coffs Harbour Airport, your skydiving experience begins with a safety briefing and outfitting of your gear.

Then head up in the plane with your tandem instructor, and jump out at your designated elevation (selected when booking). You'll freefall, experiencing a level of intensity that is seldom found elsewhere, and then counter that feeling with the gentle parachute ride back down to Earth, which gives you time for the experience to sink in as you look around and float through the sky.

Your skydive takes place over 186 miles (300 km) of pristine coastline with a backdrop of the Great Dividing Range. Land on the beach in Solitary Islands Marine Park.