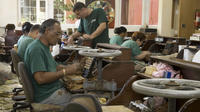 137 €
Cigar Demo and Rum Tasting at Graycliff Cigar Company
Learn all about cigars – from the history, to the artistry of a Torcedor, to how to savor smoking them – with this in-depth tour of the Graycliff Cigar Company. You'll take a walk through the history of tobacco, learning where the best leaves come from and why certain leaves blended together make the award-winning Graycliff cigars. You will observe the cigars being made. Then, once you are a connoisseur, you'll sample a variety of world renowned rums such as the Bahamas's own John Watlings, Mount Gay, Barbacourt and more.
Learn how to sort, clean, store and roll a cigar: at the Graycliff Cigar Company, you can become a Torcedor in just a few hours! The Graycliff Cigar Company began production in January 1997 in Nassau, The Bahamas. What started as a single roller in the restaurant entrance way has now expanded into an award-winning boutique cigar company with 16 master rollers – each an expert in a particular cigar format.

Graycliff Cigar Company's numerous awards include France's Club Cigare 2001 Cigar of the Year Award and several Robb Report's Best of the Best awards. The company has also won numerous accolades from Top25Cigars.com, including Best Boutique Cigar Company.