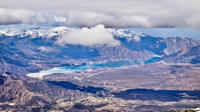 165 €
Cerro Arenales Hike from Mendoza
Explore the foothills of the Andes while trekking to Cerro Arenales at 3460m/11350ft. Embark on a 7 to 9 hr tour with a 4-6 hour hike in the beautiful Cordon del Plata and Vallecitos ski station. A must for all nature lovers and adventure seekers!
This adventure in the heart of the Andes takes place in Vallecitos region. This region is very famous as an acclimatization spot for people training for the Aconcagua climbing. During a 7 to 9 hr full day, with around 4-6hs of hiking, you will discover this gorgeous landscape with our professional mountain guide. He will share his passion of pure nature with you.

You'll hike until Cerro Arenales (3500msnm/ 11483ft) and will admire a wonderful view over the Andes. If you are mountain lovers and want to enjoy the incredible silence of the mountain, do not hesitate: this tour is made for you! Your trip includes round-trip Mendoza transportation, a picnic lunch and snacks.