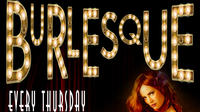 25 €
L'activité n'est pas disponible, essayez une autre recherche !
Cairns Theater Show: Burlesque Night
Audiences have been asking for it and Cairns Theater Show have delivered! Join every Thursday for an evening of burlesque! This 90-minutes of sexy entertainment will have you laughing crying and begging for more. There is an la carte menu available to purchase food and drinks separately on the night.
Cairns Theater have transformed the innocent dinner theatre into "The VooDoo Lounge, a bawdy 1920's cabaret lounge where anything can and will happen. Let your MC take you on a ride complete with beautiful woman, sexy dancing, a ton of laughs and a touch of magic.

Join the Cairns Dinner Theater every Thursday for an evening of burlesque! Forget all the worries of the world and step inside the world of burlesque!

A la carte menu will be available for to purchase food and drinks separately. Doors will open at 6:30pm and the show begins promptly at 7:30pm. If your planning on joining us for dinner we recommend arriving between 6:30 - 7pm