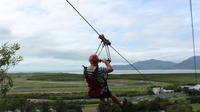 39 €
Cairns Adventure Park: Flying Leap Mega Zipline
Race your friends on an exhilarating  zipline, test your rock climbing and abseiling skills, or embark on a bush walk with stunning ocean views with a 1-hour access pass to Cairns Adventure Park, located opposite Cairns Airport. The park's thrilling Flying Leap Mega Zip thrill ride features side-by-side ziplines that will send you soaring through the trees at speeds of more than 40mph (70km). Your 1-hour access pass allows you to experience all this ecotourism hotspot has to offer, including ample wildlife.
Experience the raw power of gravity and high velocity thrill of zip lining 985 feet (300 meters) above the face of Cairn's most famous hill with your 1-hour access pass. 
Cairns Adventure Park is home to the Flying Leap Mega Zip, a side-by-side zip-line thrill ride that's surrounded by the world's oldest tropical rainforest and overlooks the UNESCO World Heritage-listed Great Barrier Reef.
Along with this adrenaline-fueled attraction, the park is also home to a scenic bush walk and offers opportunities for rock climbing and abseiling, as well as the chance for unforgettable encounters with rare Australian animal and bird life.
Cairns Adventure Park is located just minutes from the Cairns city center and Cairns Botanical Garden and directly across from the Cairns International Airport.