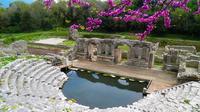 69 €
Butrint Antic City (UNESCO) and Saranda Sightseeing tour !
Saranda is a town located in the southern part of the Albanian coast and only a few kilometers from Corfu. Saranda is one of the most important tourist attractions of the Albanian Riviera. It is situated on an open sea gulf of the Ionian Sea in the Mediterranean, about 4 kilometers from the Greek island of Corfu. Near Sarandë are the remains of the ancient city of Butrint, a UNESCO World Heritage site, or Finiq Antic, etc. Saranda became important in Roman times as a strategic point along the sea route between Adriatic and Ionian seas with full access in the Mediterranean area. 
Butrint antic city is the most important archaeological site in Albania as it has survived form wars and natural catastrophes in milleniums. Butrint dates from the 7-9th century BC from Illyrian time (ancestor of Albanians), later becoming a Roman colony, then falling under the sway of the Venetians and Turks. Virgil claimed that the Trojans settled Butrint, but no evidence of this has yet been found. Butrint like other ancient cities had become a fortified trading city with its own acropolis, the ruins of which we can still visit. The rediscovered city is a microcosm of almost 3,000 years of Mediterranean history, and its 8th century BC fortification evokes the city's military power and symbolizes the rich culture of the once thriving ancient city.

Visit in Ancient theater, Roman public baths, remains of Aqueduct, Baptistery, Cathedral, mosaic, Lion gate, etc. Than we return to Saranda by having a stop for lunch at Ksamil in front of 3 small islands which seemed as floating over Ionian Sea. Transfer to Saranda, and walking tour in the city of Saranda (ancient city walls remains, synagogue, mosaic, Lekuresi Castle). Leisure time. Return to deck/hotel.