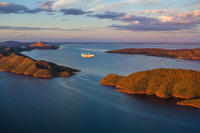 283 €
L'activité n'est pas disponible, essayez une autre recherche !
Bungle Bungle and Lake Argyle Scenic Flight
Take a scenic flight above the vast Lake Argyle. With its 1,000 square kilometers, it is more like an inland sea than a lake. Fly over the Argyle Diamond Mine, which produces more than one-third of the world's total diamonds. See the beehive-like domes of the Bungle Bungles. Don't forget your camera on this tour!
Depart Kununurra on your scenic Bungle Bungle flight in a fixed wing aircraft. Enjoy magnificent views over Kununurra township, part of the Ord Irrigation Project, Lake Kununurra, Lake Argyle and the Dam wall, the Argyle Diamond Mine, the ancient Bungle Bungle Ranges and the magnificent Kimberley countryside in between.
Every seat in the aircraft is a window seat. Return to Kununurra approximately 2 hours after departure.