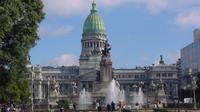 78 €
Buenos Aires Sightseeing Tour with Lunch
Visit Buenos Aires on board a comfortable bus, get to know the city's highlight and have lunch in distinguished restaurant of Puerto Madero, the most modern neighborhood.
Discover the multiple Buenos Aires, getting to know its symbols, its elegant neighborhoods and football stadium.
Your professional bilingual guide will explain the history and culture of Buenos Aires, how it has become a must in Latin America and its traditions. Then, enjoy an exquisite lunch in Puerto Madero, with the best views, while eating true Argentinian gastronomy.
After being picked up at your hotel in the center of Buenos Aires, head towards the famous Obelisk, passing by Plaza de la Republica, on Avenida 9 de Julio. Appreciate this impressive monument placed in 1936 to honor the city's foundation. Continue on to Plaza de Mayo, a historical and political center and site of Casa Rosada, the official Argentinian President's office. Be impressed by the imponant buildings surrounding Plaza De Mayo, such as City Hall and the Metropolitan Cathedral, where Pope Francis was Archbishop.
Head south to reach the old San Telmo neighborhood and admire its colonial traditions and architecture. Next up is La Boca, one of the oldest neighborhoods, and famous as the home of the Boca Juniors Stadium and Caminito Street with its colorful houses. Then, head north again into Puerto Madero, the most modern and fashionable neighborhood of Buenos Aires. Drive along Libertador Avenue to reach Palermo, the widest neighborhood and one that offers big parks and quiet. Arrive in Recoleta, an elegant and historical neighborhood, and have a glimpse into the famous Recoleta Cemetery, fancy shops, and beautiful architecture. 

Then, after 4 hours exploring the city's highlights, your guide will take you to back Puerto Madero to have lunch at one of the most distinguished restaurants in Buenos Aires. You can try different cuts of meat, Argentina's specialty, and taste a variety of starters and dessert. Enjoy your lunch and the fantastic view Puerto Madero has to offer.