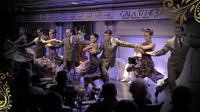 217 €
Buenos Aires Shore Excursion: Gala Tango Dinner and Tango Show
Its architecture, French style decoration and the exclusive refined details make Gala Tango the most glamorous place in Buenos Aires. Since your first contact with Gala Tango until the end of the show you will feel a different, overwhelming experience. Gourmet cuisine, specially designed for the strictest guests, complemented with wines from one of the most exclusive wine-houses in Argentina. An elegant, warm, refined Tango and folklore show defines Gala Tango as a superior option in popular art.

Port pickup is included!
When your cruise ship docks in Buenos Aires, head to San Telmo neighborhood, the birthplace of tango and the oldest "barrio" in Buenos Aires.

Arrive at a beautiful building where Gala Tango takes place and start the night enjoying a tango class or a wine tasting (choose your preference at the time of booking).

Then dig into a three-course meal featuring a wide array of Argentine and international dishes, accompanied by national wines.

The show involves a typical Orchestra formed by a quintet (piano, large concertina, two violins, and double bass) accompanied by two tango singers, four dancing couples, a "charango" player and "boleadoras" show. The show closes with a moving tribute to Eva Perón.
The show's duration is 1 hour, 40 minutes.

This excursion concludes within a 15-minute taxi ride to the cruise port (not included).

Sample three course dinner menu (subject to change):

Cold and hot starters

Salmon carpaccio
Capresse salad with Prosciutto (raw ham)
Caesar Salad
Patagonian Cream Soup
Empanadas
Main courses
Grilled beef (350 grs) with potatos
Slowly cooked beef (350 grs) with demi glace sauce and smashed potatos
Breaded tenderloin
Fish Selection
Pork Bondiola
Mozzarella and jam sorrentinos (stuffed pasta) with tomato sauce.
Desserts
Boiled Pears of Mendoza in Malbec wine with vainilla ice-cream
Homemade custard with dulce de leche and cream
Ice Cream Sundae
Semfreddo of sabayon
Warm pancake with Dulce de Leche
Included Drinks:
finest wines and champagne from our most exclusive argentine winestores, water, soda and coffee.