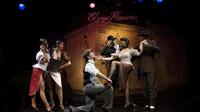 123 €
Buenos Aires Shore Excursion: El Viejo Almacen Dinner and Tango Show
If you visit Buenos Aires, you can't miss living one of the most traditional experiences of this city: going to a Tangueria. Enjoy a three-course dinner and a tango show at one of the most historical and classiest tango venues of Buenos Aires: El Viejo Almacen. The building dates back to the late 18th century, and has been used for the tango show since 1969. Here, you will have the opportunity to watch amazing professional tango dancers and to listen to a great live band.

Port pickup is included!
When your cruise ship docks in Buenos Aires, your driver will accompany you to to San Telmo, the oldest neighborhood in Buenos Aires and the birthplace of tango, where "El Viejo Almacen" (The old Store) is located. You will start your night enjoying a three-course dinner in which you can hoose between an international menu and the most typical Argentine dishes and wineries.

You will then cross the street to a small theater with an intimate stage. The tango show will begin with a short movie about its history, and then you'll be amazed at the professional dancers and their moves, as the live tango orchestra plays along, accompanied by an Argentine folk music group.
The show lasts for about 1 hour 40 minutes.

This excursion concludes within a 15-minute taxi ride to the cruise port (not included).

Sample menu (choice of one each):

FIRST COURSE
• Minced Meat Empanadas duet.
• Creamy Leek Soup with croutons and parmesan cheese.
• Bruschetta: Salmon - Longaniza (spicy pork sausage) in Basil reduction - Artisan Pâté.
• Raw Ham Rolls with cream cheese, arugula and candied tomatoes.

MAIN COURSE
• Our Sirloin Steak with leafy greens and spicy crunchy potatoes.
• Chicken Involtini Capresse, sautéed with vegetables and potatoes with olive oil.
• The day´s catch Fish stuffed with vegetables and cottage cheese with english potatoes and spinach cream.
• Ricotta and Cheese Ravioli with classic mediterranean sauce (tomato concassé, green and black olives and chives).
• Spaghetti with tomato fondue.

VEGETARIAN MENU
• Cheese soufflé with béchamel sauce, dried tomatoes and leafy greens.
• Wok-sautéed Vegetables with Rice.

DESSERT
• Chocolate Mousse with walnuts praline.
• Homemade Flan with dulce de leche.
• Cream and Dulce de leche ice cream with caramel sauce.
• Fruit Salad.
• Specialty Cake El Viejo Almacén.

DRINKS
• Wines Trapiche, Malbec and Chardonnay (1 bottle every two people)
• Mineral Water.
•Soft Drinks.