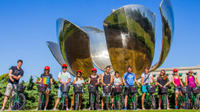 37 €
Buenos Aires North Circuit Bike Tour Including Recoleta Cemetery
Enjoy a 4-hour bike tour through the north areas of Buenos Aires and discover wonderful places. This is a great bicycle ride around some of the richest parts of Buenos Aires. Discover the beauty of the European architecture style buildings and the majestic palaces and mansions along the tour. Get ready to understand why Buenos Aires is called the "Paris of the South".
Your tour begins as you meet your guide at a central location in downtown Buenos Aires. Get all the equipment necessary and start riding through the streets of this great city.

Along the tour, you will stop at specific places, to rest and to take pictures, while your guide explains the history behind important landmarks. You'll explore the areas where the aristocracy settled and built its imposing buildings and palaces.

Some places include Downtown, Avenue 9 de Julio and Avenue de Mayo which connects most important political buildings in the country (the Goverment house and the Congress), Plaza San Martin with its charming french style buildings, the Floralis Genérica, a metallic sculpture which represents all the flowers in the world and Palermo chico, a residential area with its luxurious mansions and embassies.

To make this tour even more delightful you will have the possibility to visit Recoleta Cemetery, a chest full of unusual stories, domes and vaults that contain the most influential and powerful people in Argentinian history.

This tour will show you a wonderful side of Buenos Aires while doing something fun!

Click on 'See Additional Info' for route map.