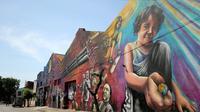 39 €
Buenos Aires Graffiti And Street Art Tour
Explore Underground Buenos Aires with our Graffiti and Street Art sightseeing Tour.
Get to know the citie's most famous craft arts and hidden graffiti hotspots and street art galleries.
Learn about Buenos Aires urban culture during a 3 hours tour, accompanied by a professional bilingual guide who will share woth you its secret spots.
During the tour, transportation is included, you will visit open art galleries, walls and learn about the artists, their art work and histories.
At 3 p.m., meet up with your guide in the Collegiales Neighborhood and start your guided tour of Buenos Aires vibrant urban art. Learn about the extraordinary history of Buenos Aires as a Street Art center and get an inside view into what makes it a fascinating city, exploding with diversity, creativity and culture.
Made in collaboration with local artists, the tour allows you to get access to their personal stories, motivations, and work pieces.
Exploring the north of Buenos Aires, pass thropugh Collegiales, Chacarita, Villa Crespo and Palermo, neighborhood offering a wide variety of art from local and international artists. Your guide will explain how Argentina's history is connected to straat art culture and how it has evolved within the city.
Introducing artworks from many artists, see how the urban scene is evolving in different places in the city, and visit of two urban art galleries.
Travel from art spot to graffiti walls by air conditioned minivan and end the tour in Post Bar around 6 p.m., located in Palermo, where a one-of-a-kind artist runs a street art gallery.