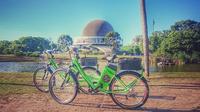 95 €
Buenos Aires Electric Bike Tour with Lunch
A perfect tour if you are staying a short time in Buenos Aires or if you want to visit all the main attractions of the city in one day. Experience the sharp socio-economic contrasts between adjacent neighborhoods and understand why this city can be so diverse and multi-cultural at first glance. This tour starts and finishes in downtown and includes lunch.
Your tour begins as you meet your guide at a location in Downtown and get one of our amazing electrical bikes that you will use along the 40km covered by this tour.

Along the tour, you will stop at specific places, to rest and to take pictures, while your guide explains the history behind important landmarks. You will first ride the south part of the city to explore the areas where Buenos Aires was born and see a lot of historical landmarks and buildings. This part includes Plaza de Mayo (the political heart of the city), Puerto Madero (the newest neighborhood of BA), Costanera Sur, La Boca (the famous working-class neighborhood where Tango was born), Boca Juniors Stadium, Caminito and Parque Lezama.
We will stop at a typical restaurant for lunch and then we will ride the north, through Retiro, Bosques de Palermo, Palermo Hollywood, Soho, Plaza Serrano and Recoleta (richest neighborhood of the city). To make this tour even more delightful, you will have the possibility to visit Recoleta Cemetery, a place full of unusual stories, domes and vaults that contain the most influential and powerful people in Argentinian history.

This bike tour is a great opportunity to get a deep introduction of this wonderful city in our electric bikes. Don't miss it!