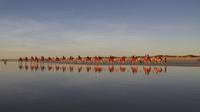 65 €
L'activité n'est pas disponible, essayez une autre recherche !
Broome Sunset Camel Tour on Cable Beach
Join an icon of Broome for a leisurely ride along Cable Beach. These award winning tours guarantee an unforgettable experience and memories to last a lifetime.
The sunset camel ride is a relaxing and informative experience along the beautiful white sands of Cable Beach. Watch the awe-inspiring backdrop of the sun setting over the Indian Ocean, from atop your camel. Learn about the history of camels in Australia, the unique stories of our much loved camels and personality traits of these gentle giants.

These guided tours include tour commentary and ample photo opportunities. Your guide will be able to take photos on your personal camera, making sure you have memories to last a lifetime. You will even have the chance to feed your camel a carrot at the end of the sunset tour!

Your local supplier has over 40-years experience delighting passengers everyday, will ensure your camel experience is safe, informative and above all fun!