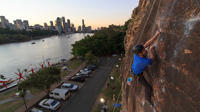 66 €
Brisbane Rock Climbing
Kangaroo Point cliff face is a unique sight in the heart of Brisbane. The urban cliff offers a unique rock climbing experience, allowing beginners and the experienced to be challenged by its various routes. After learning the basic safety procedures you will be able to familiarize yourself with the vertical world in this 3 hour activity.
Rock climbing is the ultimate puzzle, unlike other extreme sports where you only get a single go, rock climbing allows you to attempt this challenge as many times as possible in the allotted time. Qualified guides will help you become relaxed and confident, showing you the techniques needed to reach the top (it's not just strength moves, your legs play an important part). Everyone is encouraged to try this mentally and physically rewarding sport.

You will meet your guide at the bottom of the Kangaroo Point Cliffs in the heart of Brisbane City. From here you will go through a belay demonstration, and safety briefing. Once your safety briefing is completed, pair up and try some climbs! There are a number of different climbs that are set up for this activity of varying degrees of difficulty. By the end of the activity you will be able to take a look at the Brisbane skyline from the top of the climb, enjoying not only the view but also your achievement.