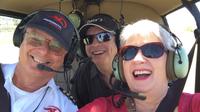 166 €
Brisbane River Helicopter Flight from Kholo
Experience the thrill of flying along the Kholo reach of the Brisbane River at low level. This 25 minute flight follows the Brisbane River from Lake Manchester to Fernvale and back again. Following all the twists and turns of the river, take in the incredible sights along the way.
Located approximately a 40-minute self drive from Brisbane CBD, experience a 25-minute helicopter flight along the Brisbane River.

You'll be flying at low level throughout your flight ensuring you are able to appreciate the views this incredible scenic flight offers of the Brisbane River.

You will travel by R44 helicopter from Lake Manchester to Fernvale with a tight turn and back again during your 25 minute flight.

This flight is for those of all experience levels as your professional pilot handles the helicopter with extreme care ensuring your safety throughout your time gliding through the sky. Listen to on-board commentary as your pilot provides insiders tips along the way.