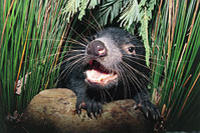 64 €
Bonorong Wildlife Park and Richmond Afternoon Tour from Hobart
Get warm and friendly with a Tasmanian Devil at Bonorong Wildlife Park and get a taste of the convict days on this afternoon half-day tour from Hobart.
You'll be picked up from you Hobart hotel and travel to the Bonorong Wildlife Park to meet some of Australia's native animals - Kangaroos, Koalas, Cockatoos and Echidnas. Tour continues to one of Australia's most unique and historic towns, Richmond. A Georgian style village resplendent with mellow stone cottages will take you back in time to the convict days. Discover its convict history and visit the Richmond Gaol.

Highlights:
Constitution Dock
ABC Building - Hobart's original sandstone Railway Station
Head out the Brooker Highway passing North Hobart and Newtown
Derwent Entertainment Centre
Bonorong Wildlife Park overlooking the Brighton Valley, offering close up experiences of Australia native animals
Take a guided tour of Bonorong and learn of the habits of our native animals
Visit Richmond - one of Australia's most unique and historic towns
Time to explore Richmond - the bridge, the Gaol, convict built homes, small cottages, unique shops and restaurants
Click on
"View Additional Info"
for the hotel pickup list