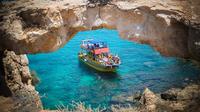 16 €
L'activité n'est pas disponible, essayez une autre recherche !
Boat Cruise from Protaras
Enjoy this 4 hour boat cruise from Protaras. Take in the fresh sea air, visit a ghost town and go swimming in the sea.
You will be picked up from your hotel and taken to the Golden coast harbour where the boat will depart at 10:30am. The boat will sail along the coastline of Pernera to the border of Famagusta. There you will be given all the information about the Ghost town and stop for the first swimming stop.
Continuing the trip sail all the way across the coastline of Protaras to Cape Greco which there will be another swimming stop and optional lunch (not included on the price).
After the second swimming stop you will visit the caves of Cape Greco to get the best view possible. On the way back there will be a third swimming stop to the beautiful area of Green Bay.
At 14:00 we will arrive back to the harbour. Our experienced crew will give you lots of information along the way and make sure to make your holiday special. You will then be returned to your hotel.