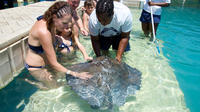 60 €
L'activité n'est pas disponible, essayez une autre recherche !
Blue Lagoon Stingray Encounter with Snorkeling
Safely interact with rays on a shallow platform with the assistance of certified animal trainers. Feel their silky smooth fins as they glide under your fingertips and get a chance to feed one if you dare! After your encounter, snorkel freely in the stingray enclosure and get a change to explore their home and see these graceful animals glide through the water.
"Rays the roof" with a new animal experience at Dolphin Encounters! Certified animal trainers will first teach you about the natural history of the gentle Southern stingray in a fun, dockside briefing. You will then be able to safely interact with the rays on a shallow platform. Feel their silky smooth fins and even getting a chance to feed one if you'd like. These graceful animals are fascinating to watch from above the water but even more exciting to see while snorkeling with them!

You are certain to soak up this experience and "rays your awareness" for the protection of these beautiful creatures of the sea. A photographer will be present to capture photos of your experience which can be purchased at our professional photo lab after your program.