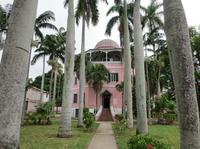 26 €
L'activité n'est pas disponible, essayez une autre recherche !
Blast from the Past Nassau Tour
Discover the very best of Nassau during this 90-minute guided tour of the city center. Get a blast from the past as you see some of the Bahamian capital's most historical sites, including the British Colonial Hilton Fort Nassau, Parliament Square and the Government House. Visit Pompey Square and the Pompey Museum and Sir Stafford Sands Fountain, among other important stops. The tour will conclude near Junkanoo Beach, a great place to grab a bite to eat and continue exploring.
Offered multiple times throughout the day, this fully-narrated tour is the perfect way to learn about the Bahamas history while exploring its capital city, Nassau. Meet up with a friendly, informative guide near Junkanoo Beach and claim a complimentary Bahamian souvenir, a cold bottle of water and a map/brochure. Then take off through the town!

The first stop on the tour will be Colonial Hilton Fort Nassau and the statue of Woodes Rogers. Head down to Pompey Square and the Pompey Museum, then continue on to the straw market and the famous shop John Bull. Visit Rawson Square, Sir Stafford Sands Fountain and Parliament Square, which is the home of the house of assembly, the senate and the court of appeal. Then pay a visit to the peaceful the Garden of Remembrance and the impressive Nassau public library.

The tour will continue on to other notable sites including Zion Baptist Church, the Royal Victoria Gardens Hotel, the Registrar General's Office and the Bank of the Bahamas. Also stop at Central Bank, Balcony House, Gregory's Arch, the Government House and Christopher Columbus' Statue. After a full 90-minutes of exploring, conclude the tour at its original meeting place and head off to nearby Junkanoo Beach to grab a bite or continue exploring.