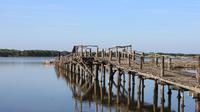 225 €
L'activité n'est pas disponible, essayez une autre recherche !
Bird Watching in Karavasta Lagoon
The Karavasta lagoon is located in the central part of Albania, on the Adriatic coast. The lagoon features sandy dunes on the Adriatic side, and a pine forest on the other. The visitors can see different species of amphibians and reptiles (including sea turtle) and many species of mammals leaving near to the lagoon.
The lagoon has been under the protection of the Ramsar International Convention since 1994. The Park contains one of the most important ecosystems in the country, rich in exotic fauna and it is also home to 5% of the global population of the Dalmatian Pelican. While visiting you might also be rewarded with a view of the very rare Slender-billed Curlew, of which there are estimated to be only 50 adults remaining in the wild.
Meeting point will be in Tirana (around 8h30/9h00 am) After a short presentation you will proceed by minibus to the Karavasta lagoon. The transfer will take approx. 1.5 hours. Meet the specialist, and ornithologist, at the entrance of the park.

Presentation of the activity. The tour will follow with a 2.5 hour hike (both ways) starting at the Southern forest and finishing at Pelicans Island. You will pass through the pine forests to an excellent view point for the Pelicans Island. You will enjoy the view and watch the birds in their natural habitat. The specialist will provide information and curiosities on the pelicans colony. Short walk to a suitable place for a picnic and some free time to enjoy nature and some refreshments. Hike back to the entrance of the park and transfer to Tirana.