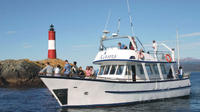 81 €
Beagle Channel Sailing Tour from Ushuaia
This is a 4-hour sailing cruise including the highlights in the Beagle Channel, such as the Lighthouse Les Eclaireurs, the Island of Sea Wolves and Birdes (Cormoranes), and Bridges Island where you will descend and make a short trek. Sailing is provided in small vessels of maximum 20/25 people, making the experience much more enjoyable than the typical crowded sailings.
Leave the local Ushuiaia port in the morning or early afternoon and head toward Alice Island to see the colony of sea lions. Later, continue to the Birds Island where the king and imperial cormorants inhabit. Nearby you'll enjoy the view of the Rock Cormorants on the cliffs.

Then, sail toward Sea Lions Island to see sea lions and fur seals. From here you can see the Les Eclaireurs lighthouse, which was made in 1919 and it is the symbol of Ushuaia, printed in every postcard.

Go for a short stroll on Bridges Island. During this walk you'll discover the local flora and fauna, plus archaeological ruins of the Yamanas culture, the native people that inhabited these lands for thousands of years.

During the trip you'll share a snack on board including tea, warm chocolate, coffee, biscuits and, of course, the typical Argentinian yerba mate.