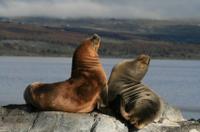 86 €
Beagle Channel and Seal Island Catamaran Tour from Ushuaia
Get out on the water on this catamaran tour from Ushuaia through the Beagle Channel. Experience the natural beauty of the southernmost part of South America as you sail through the beautiful channel, getting up-close looks at the islands and wildlife off the Ushuaia coast.
The Beagle Channel, which runs through the Tierra del Fuego archipelago, is a 149-mile (240-km) passageway, home to beautiful scenery and many small islands that you'll come across on this catamaran tour from Ushuaia. After pickup from your hotel, you'll head out on the water and sail through Ushuaia Bay, making your way into the channel. Your catamaran will weave through the islands of the Alicia Archipelago while you keep your eyes peeled for the wildlife that populates the area, like seals, sea lions and birds.

Stop at Bird Island for a photo opportunity and wildlife-spotting, and continue to Seal Island, where you'll see two species of sea lions. Then make your way over to the 74-foot (23-meter) classic Les Eclaireurs Lighthouse before heading back to Ushuaia.