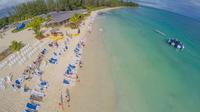 33 €
Bahamian Beach Club Day Pass with Transport
This is your perfect day in paradise! Swim in the Bahamian crystal waters or join the energetic entertainment team for fun, beach and water activities while enjoying fresh and delicious food and beverages.
Upon arriving at the Bahamas Adventures Beach Club, the energetic entertainment team will show you all that the exclusive location offers. A variety of fun activities are available throughout the day. Join in the beach volleyball, splash around in the ocean or simply relax on the gently sloping beach. Kids are entertained throughout the day in the mini kids club, fully supervised by trained staff.

Once the moment arrives to visit the bar, choose from an array of national and local alcoholic and non-alcoholic beverages and cocktails. Take a seat in the shade and taste traditional dishes, freshly prepared by the onsite chef, full of local flavors and spices. Located close by the beach, the Straw Market is hosted by island locals who sell handmade items and authentic souvenirs which make for great gifts to take home. For the more active guest, rent a kayak, stand up paddle board or snorkel equipment and explore the Caribbean blue warm waters, searching for tropical sea life. For those who choose the open bar or entrance only option, an a la carte menu is available with a wide variety of dishes are available for purchase. And for those who simply wish to lay back and relax, grab a beach chair and soak up the sun in a location simply known as paradise.