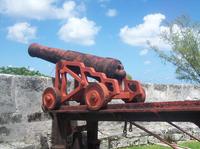 17 €
L'activité n'est pas disponible, essayez une autre recherche !
Bahamas Medieval Fort Tour
This Medieval Fort Tour is approximately one hour long and guests will be able to tour the largest fort in Nassau, actually comprised of three forts in one. You'll be able to go underground and view the dungeons of the old fort and see how the soldiers once lived. View graffiti from the olden days and much more, all while being toured around by your remarkable and informative tour guide. This tour is fun for the entire family!
You'll be greeted by your guide, given your complimentary souvenir, cold bottle of water and be transported by bus to the fort. All entrance fees in this tour is included. From there, you'll be lead up the path to the fort and the tour will begin. You'll be guided to the upper quarters of the fort and then below to the treacherous dungeons and living quarters of the fort. At the end of the tour, you'll be given the opportunity to visit the gift store and view all the Bahamian artifacts, sweets and treats the fort has to offer.