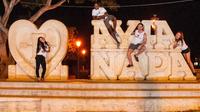 109 €
L'activité n'est pas disponible, essayez une autre recherche !
Ayia Napa Events Package
If you want the ultimate party experience in Ayia Napa then upgrade your holiday with the Party Hard Ultimate 7 Day Party pass,  so that you can party all day and night at the best events for your whole holiday.
Pambos Napa Rocks Pool Party (Worth £30)

Pambos Napa Rocks Pool Party is held at Pambos Napa Rocks Hotel, situated right at the heart of the resort of Ayia Napa. It is just a short walk from the Harbor, Sandy Bay, Nissi Beach & the main town square of Ayia Napa. The famous Pambos Pool Party takes place once a week from 2pm till 7pm, expect some huge DJ's to make a surprise visit and the best atmosphere in Napa.

UKG Night (Worth £20)

Ayia Napa is where the UK garage scene was made and its now back again for 2017. Expect old school classics, top DJs, MC's and an epic atmosphere. In addition, all Party Hard guests will receive a 1 hour open bar. Everything will be covered in this epic Napa party package.

Addicted to Bass (Worth £20)

Proving itself to be the best house night in Ayia Napa, Addicted to Bass is back once again for the summer season. Expect top house DJ's, banging house tunes, and drinks offers all night long. In addition, all Party Hard guests will receive a 1 hour open bar.

Free Club Tickets (Worth £35)

You've experienced the best bars in Napa, now it's time to go to the best clubs. Receive a bundle of free entry tickets to Napa's top clubs, which are sure to give you a true taste of the Ayia Napa nightlife.

Wristband (Worth £10)
Party Hard Summer 2017 T-Shirt (Worth £10)

Let everyone in Napa know that you are ready to Party Hard. Get your free Party Hard Summer T-Shirt and go and make some unforgettable memories in the clubs of some of the biggest resorts in the whole of Europe.

BCL Festival or Beach Party (Worth £50)

The biggest beach party in Ayia Napa that always puts on a show, with international superstars performing - this year featured Craig David, Sigma and Example. With fireworks, dancers, and special drinks offers for Party Hard customers this night will be one to remember.

Paint Party- 2 hours free bar (Worth £50)

Here it is, the messiest night in Ayia Napa - get involved and get messy at this huge 18-30 style party. Spend the night in the thick of it in the main arena or relax in the chill out area. Receive 2 hours of open bar. Eat, sleep, paint repeat.

After Party Pass (Worth £35)

With every Ayia Napa party package you will get a free after party pass every night to the after party events. This means your night out doesn't have to end early. Party till the sun comes up every night.