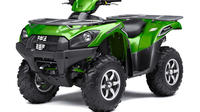 123 €
ATV Rentals
Experience Nassau on an ATV.
We are offering an unguided ATV ride with the equipment waiting for you. Your ATV ride will allow you to see many of the historical sites Nassau has to offer such as the Queens Staircase to the Fort Charlotte, riding a 2017 Kawasaki 4x4 ATV. These ATV's are automatic with power steering to ensure you have an incredible experience in Nassau. Book your ride NOW to experience this thrilling and adventurous opportunity.

 We offer one person units that are all gassed and ready to ride!

Our rates are all inclusive for your unguided ATV ride. This means everything is included : Taxes, Fuel, Helmet, Detailed Map, pickup/drop off services and equipment.