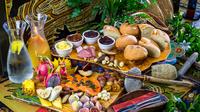 111 €
Atherton Tablelands Small-Group Food and Wine Tasting Tour from Port Douglas
Enjoy this small-group food and wine tour featuring the tropical delights of the Atherton Tablelands from Port Douglas. Eat your way through the day starting with morning tea at Tjapukai Aboriginal cultural park followed by a stop at De Brueys Boutique Wines where you'll sip tropical fruit wines. Enjoy a delicious lunch and boutique beers and spirits at Mount Uncle Distillery nestled in coffee and banana plantations and a visit to Gallo Dairyland a working dairy farm and gourmet cheese factory for cheese and beautiful hand crafted chocolate tasting. Mid afternoon stop in at Jaques Coffee Plantation for an insight into coffee from tree to cup and enjoy the very best locally grown coffee 'as you like it',  followed by a quick trip through the 'Outback' to spot a platypus whilst tasting Queensland wines and beer and homemade Tableland dips.
Departing at 8.30am, head to Tjapukai (which means 'People of the Rainforest') Aboriginal cultural park for morning tea consisting of freshly baked damper and tropical jams and fruits to taste.

Next for the day is the Kuranda Range to De Brueys Boutique Wines, where you'll sip 15 deliciously different tropical fruit wines, cream liqueurs and Ports .

Enjoy lunch at Mount Uncle Distillery, North Queensland's first and only distillery. This stunning property is nestled in coffee and banana plantations, with beautiful gardens, friendly animals and a tasting of their award winning liqueurs and spirits.


We now head towards the historic village of Atherton. Driving through this thriving hub a patchwork of amazing farmland and rolling green hills appear before us. We are on our way to a fully operational dairy farm spread across 1000 acres of rich red volcanic soil with a gourmet cheese factory.
Here we will taste a selection of their delicious cheeses whilst gazing out over the picturesque landscape. Meet some friendly animals before heading back to Mareeba through a variety of diverse crops.
Stop by Coffee Works for a fascinating tour of 'Coffee World' which tells the epic story of coffee, with over 2000 exhibits. Sip and savor some of the very best locally grown coffees, teas, luscious liqueurs and dive into endless decadent chocolates created on site.
Cross over to the Savannah 'Outback', past giant termite mounds and classic red dirt to a unique 160 acre private property. Here you'll sit in 'The Platypus Hut' a tranquil setting where you'll watch for the elusive Platypus (or dip your toes into the most beautiful mountain stream,) whilst tasting some Queensland wines and beer and homemade Tableland dips..
We then head down the Julatten range and arrive back to your accommodation at 5.30pm.