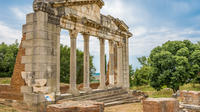 70 €
L'activité n'est pas disponible, essayez une autre recherche !
Ardencia and Apollonia Day Trip from Tirana
This tour includes 2 important destinations of Albania: Ardenica Monastery, the last monastery where monks still live today and Apollonia, which is enchanting in its combination of monuments and unspoiled nature, taking visitors two thousand years back in time.
Begin your tour by driving towards the city of Fier. Your first stop will be in the Monastery of Ardenica. This monastery is located in a dominant position in the hill with the same name which offers a relaxing view of the Field of Myzeqe. Even though your first impression would be one of a regular cult object, in it you will find impressive historical and cultural values.
After your visit of the Ardenica Monastery, continue through the city of Fier and towards the village of Pojan. You will visit Apollonia, an ancient settlement, one of the biggest in the Adriatic area. Wandering in this settlement hour after hour you will feel relaxed and meditative, through a landscape that little has changed since Antiquity. You will be introduced with the Church of Saint Mary, Archeological Museum, the Odeon, the library and the most photographed monument: the Bouleterion.
Free time for lunch.
Return to Tirana. End of service.