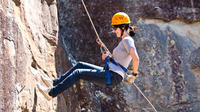 63 €
L'activité n'est pas disponible, essayez une autre recherche !
Abseiling at Glenworth Valley Outdoor Adventures
Abseiling at Glenworth Valley is all about experiencing a fantastic day of fun, excitement and adventure in the great outdoors. The abseiling experience is set on top of an easily accessible mountain with stunning views over Popran Creek as it meanders its way through Glenworth Valley and surrounding national parks. This site is suitable for beginner abseilers and offers three exciting descents - a gentle, introductory descent to develop your confidence before working up to the more challenging and lengthy vertical flat wall and open air, overhang type descents. Set on 3,000 acres of unspoilt wilderness, Glenworth Valley is just one hour north of Sydney's central business district.
Your abseiling adventure starts with a warm welcome and introduction to the day's proceedings. After a safety briefing, your guide will train you in all the abseiling techniques you need to know before stepping out onto some small beginner's rocks where you can practice your technique and develop your confidence. By the end of the session you will be able to comfortably experience lengthy rock face descents, open air declines and if you are up for a real challenge, face forward rundowns.

Abseiling is great fun and surprisingly easy. In fact, no experience is necessary and absolutely anyone can do it. To maximise the pleasure and enjoyment of our participants, we practice "challenge by choice" where you control how much of an adventure you wish to undertake. Both abseiling sites offer spectacular views of Glenworth Valley and surrounds, so be sure to bring your camera along.

Safety is paramount and we have a number of safeguards built into all of our abseils to maximise your enjoyment and peace of mind. These include use of only the finest quality equipment, friendly, qualified, experienced guides and a backup safety belaying system where we can take control of your descent at any time if required. We also have separate instructor ropes so that we can coach you every step of the way if you are in need of any assistance.