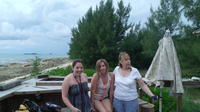 55 €
A Taste of Bahamas Cultural Food Tour
A Taste of Bahamas Tour gives guests the small-group opportunity to experience the Bahamian culture and to taste traditional Bahamian cuisine in an atmosphere that is friendly and comfortable. During presentations about the culture and history, you will be introduced to arts and crafts, the origins of The Bahamas and its people, music, art, dance and Bush medicine and Bush tea which you get to sample. You will then enjoy a homemade traditional meal prepared by Bahamian chef Princess Dianna.
After your pickup from hotel or cuise port you will be taken to the settlements of Hunter's, McTown, Lewis Yard and Pinder's Point. Your next stop will be at Grum Ma's House Cultural Center.  At Grum Ma's Bahamian culture brings your visit alive with Bahamian culture and you can be a part of it. Learn about Bahamian history, culture and people while you sip on some Bush Tea. Bush Tea or Bush Medicine can be beneficial to you or your family life and you will see how integrated this tea is into Bahamian culture. Next door is Historic St. Vincent De Paul Catholic Church.
Our next exciting stop is at a rustic retreat designed as a hang out for the guys who share it with their wives and other guests. This will be your restaurant for the day! Sit overlooking the bay with the cool sea breeze while you enjoy Bahamian cuisine specially prepared for you by chef Princess Dianna, a resident of the settlement of Lewis Yard. The specialty dish is peas and rice cooked in coconut oil steamed chicken, fried plantain and coleslaw. Desert is Bahamian guava duff or coconut duff. Switcher is served with the meal as a drink. Menu can be altered to meet dietary restrictions or preferences.