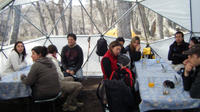 1 €
6-Day Trip: Main View Points Los Glaciares National Park
This amazing trek is specially made for intermediate hikers to get you to see the most amazing corners of Los Glaciares National Park

With all the main points covered you will get off the trail to the amazing views of the Southern Patagonean Ice Field. Non technical skills required. Good Physical Condition.

Camps are all arranged, so you wont have to carry any gear, just lunch boxes and personal gear.
DAY 1:
Transport to Electrico River - Laguna Polone - Piedra del Fraile Refuge. (Included).

DAY 2:
Piedra del Fraile - Laguna de los Tres - Poincenot Camp

DAY 3:
Poincenot Camp - Madre e Hija - Laguna Torre Camp.

DAY 4:
Laguna Torre Camp - Paso de las Agachonas - Laguna Toro.

DAY 5:
Laguna Toro - Paso del Viento - Laguna Toro.

DAY 6:
Laguna Toro - El Chalten.