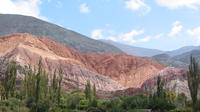 1 €
4-Day Trip to Salta by Air from Buenos Aires
Fly from Buenos Aires for a 3-night Northwest adventure! Just 2 hours away by air, arrive to the city of Salta, an unique province capital known for its colonial architecture, that you will enjoy in a free tour at the same day. Visit Cafayate and Humahuaca, both cities in 2 days of tours, marveling at amazing landscapes and small villages, including one of the most famous hill: Seven Colors Hill in Humahuaca.


Day 1: Arrival in Salta
Transfer from the airport to the Hotel. Free City Tour.

Day 2: Cafayate (B)
Driving along the fertile Lerma Valley, you will pass different towns like Cerrillos, La Merced, El Carril and Coronel Moldes. This is an important area for tobacco plantations, as you will see along the road. Upon arrival into Cafayate, a picturesque village famous for its vineyards. Visit to a winery with wine tasting included. Time for lunch in Cafayate. Tour around the city and markets. In the afternoon, we return to Salta through Las Conchas Gorge, stopping in "Posta de las Cabras", famous producer of goat cheese.

Day 3: Humahuaca (B)
We depart at 6:45am from your hotel. On the way to Humahuaca,we go through different villages like Volcán, Tumbaya and Maimará.
Once in Purmamarca, a village famous for the "Cerro de los Siete Colores" (Seven Colors Hill), you will have time to visit the handicraft market and to walk around the village. After a short bus ride you get Tilcara, where you visit the Archeological Museum and the "Pucará" (amazing indigenous ruins). Right after leaving Tilcara we will get to Humahuaca.Free time to walk around and have lunch. In the afternoon, we return to Salta through San Salvador de Jujuy, where we get to see the main attractions of the city.

Day 4: Departure (B)
Transfer form the Hotel to the airport.