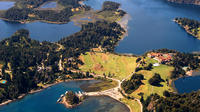 1 €
4-Day Trip to Bariloche by Air from Buenos Aires
Fly from Buenos Aires for a 3-night Bariloche adventure! Just 2 hours away by air, the town of Bariloche provides an easy access to Nahuel Huapi National Park, and to the Campanario, Tronador and Cathedral Hills; the last one known fot its amazing ski activities center, the biggest in South America. Visit Circuito Chico and Tronador Hill in two days tours, marvelling of the incredible snowy piked mountains views, including Nahuel Huapi, Gutierrez and Mascardi Lakes and the famous Llao Llao Hotel.
Day 1: Bariloche Arrival
Transfer from the Airport to the Hotel.

Day 2: Half-Day Short Circuit in Bariloche (B)
This is one of the most traditional tour of Bariloche. It goes through the city and then trough the Nahuel Huapi National Park and Llao Llao Municipal Park. Along the length of its 65 Km there are several interesting places to visit: Cerro Campanario by chairlift, the lookout at Llao Llao peninsula and the surrounding lake system, the lavender plantation and factories of knitted wear, candles, dolls, artistic clocks, jam and chocolate, ceramics and homemade beer. You can also visit fish hatcheries, forgeries, tea houses and plant nurseries as well as the magnificent Llao Llao hotel, San Eduardo chapel and the Lopez and Capilla massive rock face.

Day 3: Full-day excursion to Tronador Hill (B)
Leaving by Onelli street leading to National Route 258, you'll drive along Lakes Gutiérrez and Mascardi and take the dirt road. After crossing the bridge over Río Manso you reach the base of Tronador-Pampa Linda where you stop for lunch. At the end of the road, after a forest of coihues and lengas you will see the Black Glacier. The itinerary ends further ahead at the foot of the Tronador, with its characteristic peaks Argentino (3410 m.), Internacional (3554 m.) and Chileno (3470 m.) The Cascada de Los Alerces (waterfall) offers some variation of this excursion. Before crossing the bridge over Río Manso you go around Lake Los Moscos and Río Manso until you reach Lake Hess where the road ends after crossing the Roca River and you have to walk about 300 m. to get to a lookout point and admire the imposing Cascada de Los Alerces. You will have to remember that the road after Lake Mascardi is a dirt road which means that there will be one way of ascending and one way of descending. You should ask for information about the condition of this road in the city, especially during the winter season, since it is closed frequently due to weather conditions.

Day 4: Airport (B)
Transfer from the hotel to the Airport.