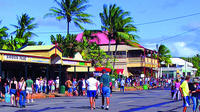 3 €
L'activité n'est pas disponible, essayez une autre recherche !
4-Day Cape York and Torres Strait Islands Air Tour from Cairns
Cape York one of Australia's great unspoiled wilderness areas together with the little visited yet idyllic Torres Strait Islands combine perfectly for this four day premium tour. Flying by charter 50 seat aircraft, makes this remote area accessible, comfortable and with ease of travel. Walk along a pristine beach to the northern most tip of mainland Australia. Experience the unspoiled tropical paradise of Thursday Island and discover historic Cooktown.
Day 1: Cairns, Cape York, Punsand Bay, North Tip of Australia Walk, Thursday Island (L,D)
Join your aircraft and fly from Cairns to Bamaga on the Jardine River, the unofficial capital of the Cape York Peninsula, 40 kilometers from the tip. Tour Cape York through to Punsand Bay Safari and Fishing Lodge, a remote and idyllic spot to relax and enjoy lunch.
Continue to a delightful sandy beach just below the tip and take the spectacular walk to the northern most tip (reasonable fitness and sturdy walking shoes required.) Stand under the official tip of Australia notice, for a unique photo opportunity. Return to Bamaga airport for the 'low and slow' scenic flight along Cape York across Torres Strait to Horn Island. Transfer by ferry to Thursday Island. Accommodation is either Jardine or Thursday Island Motel for two nights.

Day 2: Thursday Island, Torres Strait Island Cruise (B,L,D)
Explore the township of Thursday Island at your leisure prior to a tour including a visit to the historic cemetery and view of surrounding islands from Green Hill Fort. Lunch at the Grand Hotel with its spectacular views of Torres Strait. A place where Somerset Maugham is believed to have written a few short stories whilst enjoying a gin sling! A unique afternoon cruise with a local expert around the beautiful Torres Strait Islands. The islands and their surrounding crystal clear waters and reefs provide a highly diverse set of land and marine ecosystems. Visit a pearl outlet to see exquisite pearl jewellery. Enjoy a special Crayfish dinner (alternatives available) at Jardine's Somerset Restaurant.

Day 3: Horn Island, Cooktown (B,L,D)
Return to Horn Island by ferry and meet local guides Vanessa and Arthur Seekee for a fascinating and inspirational tour. 'Walk in the steps' of those who served on the island during WWII, both American and Australian. Learn of the hardship involved in the development and maintenance of Horn Island as an advanced operational airbase. From Horn Island Airport enjoy the brilliant 'low and slow' scenic flight along the Great Barrier Reef viewing its exquisite colors and islands. Arrive at historic and picturesque Cooktown. Home for one night is The Sovereign Resort.

Day 4: Cooktown, Cairns (B,L)
Discovered by Captain James Cook when the HMS Endeavour hit a reef in 1770, join a local guide to tour the sights and hear the fascinating story of Cooktown. Travel to Grassy Lookout for spectacular views of the surrounding area. Visit the world-class James Cook Museum with its fantastic displays which include the anchor and cannon from Captain Cook's HMS Bark Endeavour. Time to take a stroll in the footsteps of Captain Cook along Charlotte Street to admire the historical buildings and sites. Fly from Cooktown to Cairns, concluding your tour. Transfer to Cairns accommodation or onward commercial flight.