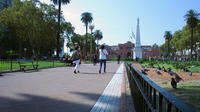 340 €
4-Day Best of Buenos Aires Tour with Accommodation
Discover the beauty of Buenos Aires on a tour of 3 nights, 4 days in the capital of Argentina, also known as the "Paris of Latin America".
This multi-day trip includes accommodation with breakfast, transfers from the airport to the hotel and back. You'll also enjoy a half-day city tour around the main attractions of the city, take a half-day excursion to Tigre Delta including a boat ride and enjoy a tango show with dinner and free drinks.
Day 1: Welcome to Buenos Aires
Transfer from the airport to the hotel.

Day 2: City Tour
Discover the magic of Buenos Aires. Perfect for first-time visitors, this morning three-hour city tour is a well-rounded introduction to Buenos Aires' famous sights while also leaving you with some free time to explore a bit more of the city. The three-hour bus tour includes the beautiful parks and gardens of Recoleta and Palermo neighborhoods, the Colon Theater, Mayo Square, the cathedral, traditional Mayo Avenue, Congress Square and many other buildings and palaces.The tour continues with a visit to San Telmo, residence of the aristocracy until the end of the 19th century. After that you will have the opportunity to explore Caminito Street in La Boca. In the evening we will take you to a Tango Show. (where dinner, drinks, and transfer are included).

Day 3: Tigre Delta
"Watching the Delta" means appreciating the generosity of nature in this singular place of the world, which could never be invisible to your eyes. You will leave Buenos Aires heading for this natural scenery and will sail along the Delta and its islands. The life of the "isleños" (people who live on the islands of the Delta) is very special. We will get to know their customs, culture and ways of life. We will see the elegant residences located in the residential neighbourhoods of the northern suburbs. We will visit the San Isidro neighbourhood to get to know its history and people. On the way back to Buenos Aires we will pass by the Presidential Residence (Quinta de Olivos).

Day 4: Airport
Transfer out to the airport.