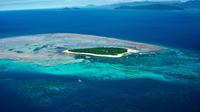 108 €
30-Minute Great Barrier Reef Scenic Flight from Cairns
Enjoy the Great Barrier Reef from the air as you depart from Cairns airport for your 30-minute scenic flight. With over 30 years experience, your local pilot guides are well experienced and will ensure you see the best there is to see of this stunning location.
View the great barrier reef with a long running and experienced operator in North Queensland.

The experienced team will assist you to choose the optimum time for viewing and photographing the Great Barrier Reef. To see the magnificent aqua blue and opal like colors, similar to the photos it is best to take your flight between 9:30am and 2:30pm. At certain times a year viewing the reef outside these hours can be disappointing as shadows and reflections in the ocean caused by low sun, partial cloud cover and haze can limit the viewing quality.

Your hotel pick up will be approximately 30-minutes prior to your flight departure. Your aircraft will take less then 5 minutes to reach the reef from Cairns Airport and all passengers will have a window seat. A flight brief is conducted in the air conditioned terminal using maps to show where the flight will go on the day. The direction of the flight is determined by the prevailing winds, the tides and of course the weather conditions.

The route flown will usually take in Green Island, Upolu Cay, Oyster, Arlington, Vlassof and Michaelmas Reefs as well as views of Cape Grafton, False Cape, Double Island and the Northern Beaches of Cairns including Palm Cove.