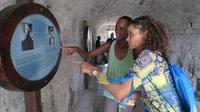 51 €
L'activité n'est pas disponible, essayez une autre recherche !
3-Hour Cultural Scavenger Hunt and Game Tour in Nassau
Join us for a truly unique shore excursion on the beautiful island of Nassau. Air-conditioned transportation is included in this three-hour tour from select resort hotels and the Nassau cruise ship pier. This is a combination amazing race and sightseeing tour excursion, among one of Nassau Islands historic treasures. Come with us a we visit Fort Charlotte and Fort Darcy where your team can compete with others for fun and excitement. Play great games and enjoy some tasting of local drinks and food, including conch, local treats, and rum. What a great excursion in Nassau.  We drop off at Junkanoo Beach and The Straw Market (upon request) on our return trip to the pier.
This is where the big kids at-heart play! A life experience that's got the perfect amount of amazing race and survivor with an excessive quantity of fun!  Our tour is a group competition that will challenge your five senses as you explore our history and taste our culture in a fun and exciting way. From free samples of our native foods, treats, and rums, to specialty drinks, and bush teas, you will enjoy a scavenger hunt and games with iconic cultural items such as conch, sponge, coconuts and pirates.

Just a ten-minute bus ride from the pier, Fort Charlotte is the fitting location for our battle to take place. Once your tour guide has divided you up into teams (groups of 4-10), the competition begins. You start out with a scavenger hunt through Fort Charlotte. You had better prepare for fun, because this is no ordinary scavenger hunt.

Next, you will find yourself in Fort Darcy, an addition off of Fort Charlotte, where the excitement really increases. The teams will be introduced to four different iconic items that are significant to Bahamian culture where you will engage in games based off of the icons. After the games, the scores are tallied and the winners are announced. It's then time to taste the Bahamas! Free samples of native foods: conch fritters, pea soup and dumpling. Additional treats include: seasonal fruits, local jams, and hot sauces. Consume specialty drinks including famous sky juice and the Bahama mama. Taste local rums or choose from bush teas and local soda.

With all your cravings for food and adventure satisfied, you will return back to the cruise ship pier via bus with many memories of this fun adventure.