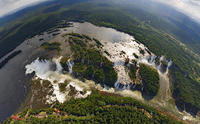 580 €
3-Day Iguazu Falls Tour of the Argentinian and Brazilian Side
Visit one of the world's natural wonders that is declared a World Heritage Site by UNESCO. Iguazú Falls features 270 waterfalls over 3kilometers of tropical jungle that join the Argentinian and Brazilian borders.
Do not miss the chance to walk along the paths, stairways, bridges and balconies through the jungle of Iguazú National Park.
Take some time out to watch the native wildlife (tapirs, monkeys and hundreds of plant species) and be as amazed by them as the Spanish explorer Alvarez Nuñez Cabeza de Vaca was in 1541.

Day 1: Transfer from the airport to the hotel. In the afternoon, visit the Brazilian National Park where multicolored butterflies and amazing rainbows created by the spray of the thundering water fill the air. Feast your eyes on the panoramic view of the falls upon reaching the hotel.

Day 2: Iguazú Falls – Argentina Side. Walk the paths and bridges of the splendid Iguazú National Park and be amazed by the surrounding virgin lush vegetation and its amazing flora and fauna. Take a bath at the falls while trekking the upper and lower walks. Enjoy a ride on the ecological train and walk along a path that takes you to the imposing Devil's Throat canyon. If you're brave enough to go on a motorboat on the Iguazú River, you get an unforgettable panoramic view of the falls and ending with a "shower" under them! Go through the rainforest in open-top 4x4 trucks, which is perfect for picture taking.

Day 3: Enjoy your free day before departing to the airport.