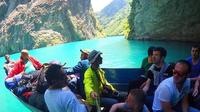 150 €
L'activité n'est pas disponible, essayez une autre recherche !
2 days hiking and sailing tour of Valbona
This special interest tour program is exclusively designed to offer participants the best combination of pristine wild nature, unforgettable ferry ride through the heart of the Albanian Alps and local folklore and traditions. During these 2 days you will be able to visit most of the tourist attractions of Valbona Valley and Prizren.
Day 1
We begin our journey toward Northern Albania, leaving Tirana early in the morning at 05:00. At 09:00 we get on the ferry that sails right in the heart of the Albanian Alps. The Koman lake ferry trip offers some spectacular views of the Albanian Alps, waterfalls, rural villages and wild forests.

Passing through Bajram Curri, we enter the national park of Valbona Valley. After a delicious traditional lunch, we explore some of the main attractions, such as a great valley named "Lugina e Valbonës", a fountain head called "Krojet e Ragamit", the lake "Liqeni i Xhemës" "The old Mill" "The center of the village", "The old school" etc.
Dinner and overnight in Guesthouse. 

Day 2 
After the breakfast we will left Valbona behind and will be faced toward Prizren. In the centre of the town, on the bank of river Bistrica, stands the house in which in 1878, the League of Prizren was held. It was an assembly of representatives of all Albanian inhabited regions that demanded autonomy from the Ottoman Empire. This event was the starting point of the Albanian liberation movement, which eventually led to the declaration of the independence of Albania in 1912. The house archives many of the documents relating to the League of Prizren. Next destination is Prizren Castle, an old fortress situated the old part of the city of Prizren.
The fortress dates since the Roman years and lived until 1915, when it was destroyed during the First World War. It was built to protect Prizren from foreign attacks and consists of a great number of underground tunnels. Due to its long and interesting history, as well as the amazing view of the city, its ruins attract a great number of visitors nowadays. After visiting these two most historical objects, everyone is free to have lunch, you can choose nor a great restaurant neither a small one where you can taste homemade "suxhuk". After lunch it's time to travel back in Tirana capital city. This is the end of our journey. We hope you enjoyed this irreplaceable experience through rural Albania.
ChooseBalkans.com thanks you for being part of our services and you are welcomed to participate in our next trip.

Will be visited

1) Koman Lake

2) "Xhema's" lake

3) Valvona Waterfall

4) Valbona Valley and Old Mill

5) City Tour of Prizren (Kosovo)

6) The Legue of Prizren

7) The Castle of Prizren 


Included
Dedicated transport
Dedicated Professional guide
Ferry Ticket
One night of sleep in Traditional Guesthouse
Traditional Lunch in guesthouse
Traditional dinner in guesthouse
Breakfast
City Tour of Prizren (Tickets Included)