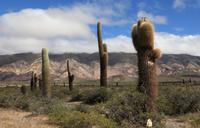 245 €
2-Day Calchaquí Valley Tour to Cachi and Cafayate
Experience the incredible Calchaquí Valley on this activity-filled overnight tour from Salta that combines stunning natural scenery with Argentine wine. You'll enjoy a scenic round-trip drive to the towns of Cachi and Cafayate, admiring gorges, rivers, vineyards and mountain towns along the way. Make plenty of photo stops at panoramic viewpoints, and learn about the history of the area from an experienced guide. Visit Cachi's Archeological Museum if you wish on Day 1, and enjoy a winery tour and tasting in Cafayate on Day 2. Accommodation is not included.
After booking, you may contact the local tour operator for recommendations on hotels in Cafayate; accommodation is not included, but you will receive advice on popular hotels in town that fit your needs. Some popular options include the Viñas de Cafayate Wine Resort (buffet breakfast included), La Casa de la Bodega – Wine Boutique Hotel (buffet breakfast included) and Patios de Cafayate Wine Hotel (one of the most luxurious options; breakfast included).

Meals are also excluded from the tour price, giving you the flexibility to make your own decisions about where you eat. Most hotels include breakfast of some sort; your guide will give you recommendations on where to enjoy lunch and dinner.