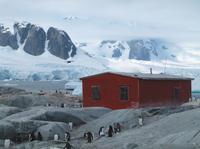 6 €
L'activité n'est pas disponible, essayez une autre recherche !
11-Day Antarctica Cruise from Ushuaia: Drake Passage, South Shetland Islands and the Antarctic Peninsula
Journey from Tierra Del Fuego to Antarctica and back on this 11-day cruise, round-trip from Ushuaia. Your voyage takes you through the Beagle Channel and the Drake Passage to explore the South Shetland Islands and the Antarctic Peninsula on foot. With expert guides, ride by Zodiac to view magnificent ice-sculpted landscapes, and see an abundance of penguins, whales and other marine life that inhabit the Southern Ocean. Returning to the comfort of your cruise ship each night, it's unlikely you'll forget the sheer size and significance of the terrain.
Your 11-day Antarctica journey includes onboard presentations by a knowledgeable and professional crew, 28 meals and ground transportation to Ushuaia International Airport. Enjoy nine nights accommodation in double or triple cabins aboard the cruise ship, which holds a maximum of 189 passengers, plus one night accommodation in Ushuaia.

Your amazing tour to the end of the earth also includes day trips aboard a Zodiac. You'll explore the icy blue waters of the Southern Ocean and the massive continent of Antarctica as you take in the sights of this unbelievable frozen world.